Digitized Comparative Research
This research supported by the Israel Scientific Foundation lasted three years, in which a computerized database was build and over 7000 tales were analyzed.  It ended in 2009. The following ethnic groups' collections were included:
Bulgaria: 87 tales    
Turkey: 384 tales    
Yugoslavia Sefarad 51 tales   
Greece 83 tales       
Rhodes 5 tales
Yemen  1584 tales  
Morocco 2089 tales                
Poland  2821 tales
The database components included for each tale: bibliographic accounts, informants biography, telling context, tale's content abstract and its genres. In addition, the tales were annotated according to the AT International Tale Type including Uther's updates, and the Oicotypes identified since IFA founding.  During the research period, nine new IFA tales oicotypes were singled out.
The main emphasis focused on indexing each tale according to poetic and thematic components as follow: Characters, Space, Time, Customs, Beliefs, Transformation, Objects, Linguistic idioms.
Twelve researchers and graduate students pursued this research.
We are currently analyzing the research findings which already appear to be fascinating.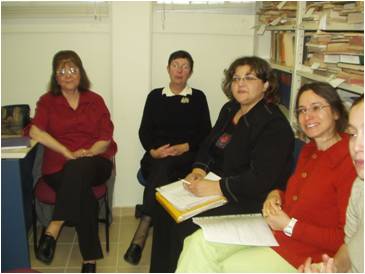 Research Meeting, IFA 2007