Numerous people were involved in establishing IFA, first and foremost Dov Noy. He initiated the collection of folktales originating in Israel's different ethnic communities.  IFA's collection of folktales was created thanks to the thousands of storytellers and recorders, all volunteers, who donated their time and folk narratives over the years to the archives. The first narratives recorded by IFA were published in the section "MIPI HA'AM" (The Peoples Mouth), when Dov Noy served as the editor of a weekly insert on literature for "Omer", a newspaper targeted for new immigrants. The collection was built on oral narratives passed down from generation to generation. In 1955, this collection was incorporated into Haifa's Museum of Ethnology and Folklore. Prof. Dov Noy managed the archives until 1983. Afterwards, they were transferred to the University of Haifa where they are presently housed.
Between 1983 and 1995, Prof. Aliza Shenhar served as the archives academic head. From 1995 to the present, Prof. Haya Bar-Itzhak is the archives academic head. In 1964 Edna Hechal assumed responsibility for managing the collection at the Haifa Museum of Ethnology and Folklore, and continued as its academic coordinator until September 2003. In October 2003, Dr. Idit Pintel-Ginsberg joined IFA's staff as its academic coordinator.
IFA is managed by a scientific advisory council headed by Prof. Haya Bar-Itzhak, with membership composed of its former head and representatives from all of Israel's universities. The council meets once a year, receiving an annual report on the previous year's work, and discusses directions and issues for future endeavors.
IFA Academic Heads, 2001. 
From left to right: Prof. Aliza Shenhar, Prof. Dov Noy, Prof. Haya Bar-Itzhak.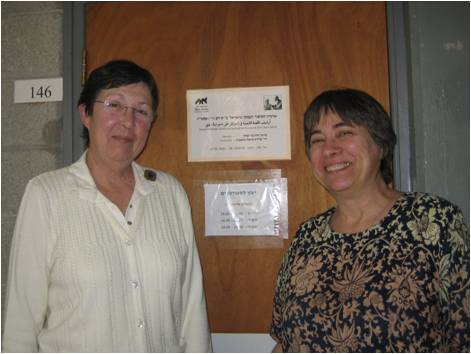 IFA  Academic Coordinators
From left to right: Ms. Edna Hechal, Dr. Idit Pintel-Ginsberg